Samois-sur-Seine developped with the forest and river's resources. The village made the most of a particular environment, where living is agreable : the Seine banks.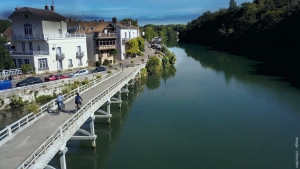 Samois's harbour has been used very early for firewood and sandstone cobblestones from Fontainebleau forest, boarding to Paris.
On the left bank, from the Pont de Valvins, the very old domaine de la Madeleine, divided into the castle, called "Ermitage" and the mill, visible from the Seine banks.
The domain of the Bellefontaine castle, not far from here, was the residence of Prince Troubestzkoï, ambassador of the Tsar of Russia in 19th century. His descendants, the Orloff family, still live in the domain.
On the road from Fontainebleau, going along the river, you will cross the Hameau des Plâtreries : you may appreciate the serie of beautiful houses. One of them, "La Pêcherie", was a good restaurant called "À la bonne matelote". There is also the house where Victor Hugo secretly loved the owner's wife at the time.
Moreover, the Country Club's appearance didn't change very much since the beginning of 20th century, it contributes to the charm of the place.
How to come ?