Barbizon, painters' village
Around the year 1820, Edmée and François Ganne set up a grocer's shop in the hamlet of Barbizon. In 1827, Jean-Baptiste Camille Corot discovered the village, paving the way for other painters to come here, including Théodore Rousseau and Jean-François Millet.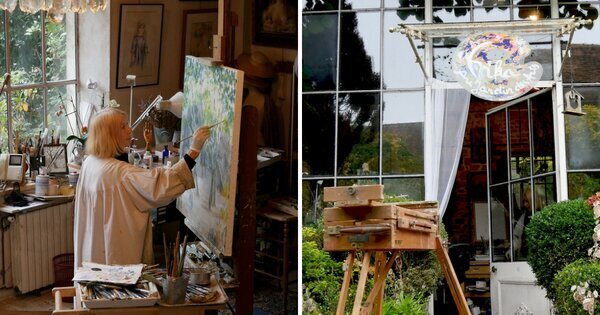 A whole generation of young artists decided to paint "from nature", leaving their studios to work in situ, like their two great English precursors, John Constable and Turner.
The museums
The Musée des Peintres de Barbizon is settled in two historic places : the auberge Ganne, where many artists stayed between 1820 and 1860, in order to find inspiration thanks to the surrounded nature; and the Theodore Rousseau's house-studio, where this artist lived the twenty last years of his life.
The name of the school was taken from the village of Barbizon, on the edge of the great forest of Fontainebleau near Paris, where the school's leaders, Théodore Rousseau and Jean-François Millet, driven from Paris by poverty and lack of success, settled in 1846 and 1849, respectively. They attracted a large following of landscape and animal painters, some going to live at Barbizon, others visiting only infrequently.
The Auberge Ganne recreates the atmosphere of this period, thanks to its furnishings and décor painted by the artists during their time here. The permanent collections contain around 100 works by less well-known artists of the 19th century as well as paintings by artists including Jean-François Millet, Narcisse Diaz de la Peña and Rosa Bonheur.
Le Musée Jean-François Millet
Le Musée Jean-François Millet was in the studio of the painter. He painted the scenes of rural life found in The Angelus, The Gleaners, Man with a Hoe and The Sower. This period house is home to personal effects belonging to the artist (letters, drawings, engravings, etc.) and a collection of original works by the old masters of the Barbizon School.
Discover the Robert-Louis Stevenson path !