Adopt the eco-attitude!
Discover all the different ways Pays de Fontainebleau is fostering sustainable development through its heritage attractions and its commitment to ecotourism.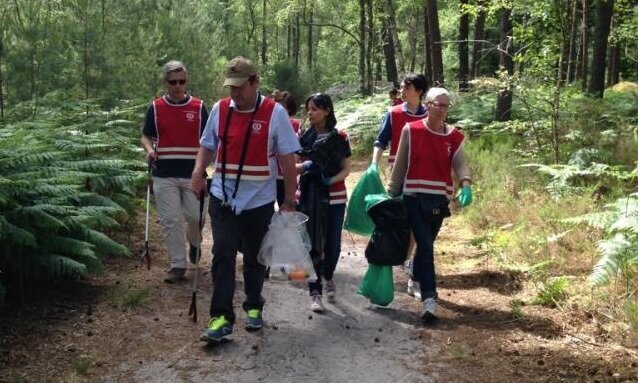 > Information and awareness-raising among visitors to the forest, château and town,
> Environmental conservation by encouraging eco-responsible habits and attitudes,
> Compliance with litter regulations in the town, forest and château and adopting environmentally aware behaviour,
> Committed service providers who unhesitatingly signed the Biosphère Ecotourisme Charter.
Sport & Leisure
ECO-TOURISM

Pays de Fontainebleau is a place for exploring and enjoying nature in all kinds of ways, from the conventional to the unusual!
Numerous leisure activities are on offer thanks to its environmental resources – especially the forest, which is a major attraction for increasing numbers of people looking for a healthy way of life in contact with nature.
ACTIVITIES & SERVICE PROVIDERS
> L'ânerie bacotte – rambles and animal traction : details
> Les attelages de la forêt de Fontainebleau – Horse-drawn carriage rides : details
> Caval & Go – riding with a difference, responsible tourism : details
> Centre d'Ecotourisme de Franchard – temporary exhibitions and events : details
> Evasion canine – dog-sledding : details
> Globe climber – rock-climbing :  details
> Oxygène Forme Nature – rambling, Nordic walking, guided walks :  details
Shops
ORGANIC SHOPS IN PAYS DE FONTAINEBLEAU
A number of different shops sell organic dietary and natural products.
Well-known names and quality guaranteed close to home:
> Biocoop Avon – 1, ave du Général de Gaulle – 77210 Avon
> Aux délices de la terre – 99, rue Gambetta – 77780 Bourron-Marlotte
> Biona – 25, rue des Sablons – 77300  Fontainebleau
> Naturalia – 25, rue Grande – 77300 Fontainebleau

A CHANCE TO MEET LOCAL FARMERS
Buy the best produce direct from our local farmers and artisans.
Order online, then every week come and collect your groceries and meet the people who produce them.
> Ruche d'Avon – Gare routière de Fontainebleau-Avon – Rue de la petite vitesse
Distribution on Friday (5:30pm to 7pm)
> Ruche de Bourron-Marlotte – 110, rue du Général de Gaulle
Distribution on Thursday (6pm to 8pm)
> Ruche de Thomery – La Plage – Salle de la Plage – 1 chemin des Prés
Distribution on Thursday (6pm to 8pm)
> Ruche de Chailly en Bière – 82 ROUTE DE PARIS
Distribution on Thursday (5pm to 7pm)
Official website : la ruche qui dit oui
GET HIGH-TECH WITH SMARTONE
You can order eco-responsible articles, such as solar-powered battery chargers, here.
This chain store specialises in connected objects, fashion and accessories for smartphones and tablets.
3, rue des trois maillets – 77300 Fontainebleau
http://www.smart-one.fr
Accommodation
ACCOMMODATION WITH A DIFFERENCE, AT THE HEART OF NATURE!
This has developed into a real social phenomenon, with strong demand for this kind of getaway. Our service providers offer unique places to stay, and perfect, restorative tranquillity in a tree-house, a transparent camping pod or a barge moored to the riverbank.
Diverse and original offers all geared to nature and well-being – yours and that of the environment.
> L'Acousmahome Arbonne-la-Forêt : details
> Les roulottes de Bois-le-Roi : details
> Chambres insolites du Caribou : details
> Novotel Fontainebleau-Ury : détails
SIGNATORY HOTELS AND PARTNERS OF THE BIOSPHERE ECOTOURISME CHARTER
> Château de Bourron, Bourron-Marlotte : details

> Hôtel Victoria, Fontainebleau : details

> Gîte Arbonne – hébergement insolite : details

> Hôtel Mercure Château de Fontainebleau Demeure de Campagne : details

> L'Ecureuil : details

> La Demeure du Parc : details

> L'acousmahome : details

> Novotel Fontainebleau Ury : details

> Arbonne Equitation : details

> Caval&go : details
Tourist Office & Town
THE ECOFRIENDLY ATTITUDE AT FONTAINEBLEAU TOURISME

> We sort waste,
> We think before we print: all emails sent out by our departments state "Spare a thought for the environment, only print this message if necessary",
> Information notices from the National Office for the Protection of Forests are posted in our reception area,
> We practise car-sharing,
> We use public transport,
FONTAINEBLEAU POSTER CAMPAIGN
People who do not clean up when their dogs foul the streets are liable to be fined. To help dog-owners, plastic bag distributors are available on some streets.
Organisations
ORGANISATIONS
Discover the organisations working to promote sustainable development in the Pays de Fontainebleau area through a variety of campaigns and activities. The forest is the principal sector in which the issues at stake and the commitment and role of each one can be measured.
> L'association des Amis de la Forêt : www.aaff.fr
> Attitude Nature : www.attitudenature.fr
> Biosphère Ecotourisme : www.biosphere-ecotourisme.com
> L'ONF (Office National des Forêts) : www.onf.fr
> Seine-et-Marne Environnement : http://www.me77.fr/
> Parc naturel régional du Gâtinais Français :https://www.parc-gatinais-francais.fr/

OPERATIONS IN THE FOREST OF FONTAINEBLEAU

> Eco- friendly logging : in April 2015, an Ardennes horse was assigned to the Rocher Fourceau site to replace the heavy plant that was unable to pass between the rocks to evacuate the wood.
> Conservation grazing experiment : since April 2015, one hundred ewes have been grazing 40 hectares of forest. The ONF (National Forestry Office) is aiming to control plant growth in these parts of the forest, which it is important to keep open. Comprised of moorland, meadows and grassland, it is home to typical plant and animal species. This alternative to mechanical maintenance is managed by a young sheep farmer.
> Sustainable Development Week and Clean Forest campaign: open to volunteers (inhabitants, users, associations) who wish to take part in cleaning up the forest.


DISTINCTION
> Fontainebleau – an exceptional forest: the forest of Fontainebleau is the first national French forest to obtain the national quality label of Forêt d'Exception.
Qualité Tourisme label
ESTABLISHMENTS WITH THE QUALITÉ TOURISME LABEL IN PAYS DE FONTAINEBLEAU
2 establishments have been awarded the Qualité Tourisme label
This is awarded on the basis of several criteria : the standard of reception and services, professionalism, and the use of local resources and seasonal produce.
> Fontainebleau Tourisme : details
> BIT Barbizon : details
Transport
PRIVATE OR PUBLIC TRANSPORT

Whatever your destination, a variety of means of transport enables everyone to get around in ways that suit their pocket, their taste and the things they like to do.
There's something for everyone!

TOWN BUSES
Running all week, at weekends and on bank holidays
Consult the timetable on the How to Get Here page by clicking HERE
CAR-SHARING
Car-sharing websites have grown into real partners.
Blablacar : click HERE
RAIL
If you're travelling from Paris : go to Gare de Lyon and take a train to Montargis Sens. Alight at Fontainebleau-Avon station. Trains run on weekdays, at weekends and on bank holidays.
Consult the timetable on the How to Get Here page by clicking HERE
There are 5 other train stations in the Pays de Fontainebleau : Bois-le-Roi station, Bourron-Marlotte – Grez station, Chartrettes station, Hericy station and Vulaines-sur-Seine- Samoreau station.
VEHICLE RENTAL
Cars, conventional or electric bikes
> Bike Rental – Rue du cas rouge 77123 Noisy-sur-Ecole Tél : + 33 (0)6 22 24 43 53
Email : velochannel@gmail.com – Site : www.fontainebleaubikerental.com
> A La Petite Reine – Has been selling cycles for more than 30 years
14, rue de la Paroisse – 77300 Fontainebleau – Tél : 00 33 (1) 60 74 57 57
Email : contact@alapetitereine.com – Site : http://www.alapetitereine.com/pages