Photographic exhibition an emotional journey
Prolongation jusqu'au 31 janvier 2021 ! Espaces verts Gare de Fontainebleau-Avon, plein air/accès libre.
L'exposition photographique organisée par Fontainebleau Tourisme et en partenariat avec l'ONF se prolonge ! Nous vous remercions pour les nombreux messages positifs sur cette exposition (ça fait plaisir !) et la moindre des choses était de la prolonger. Alors nous vous invitons à la découvrir et la faire découvrir pour célébrer la beauté de la forêt de Fontainebleau et le lien intime de la Nature (parc et jardins) avec le château de Fontainebleau.
Ainsi, cette exposition photographique a été aménagée pour la première fois, dans les espaces verts du parvis de la gare SNCF de Fontainebleau-Avon. En plein air et en accès libre, elle permet une circulation fluide et facilite les mesures de distanciation sociale.
24 photographes mettent en lumière avec sensibilité la richesse des paysages et des ambiances de la forêt de Fontainebleau et de son château. Une autre façon de découvrir le territoire et son patrimoine d'exception.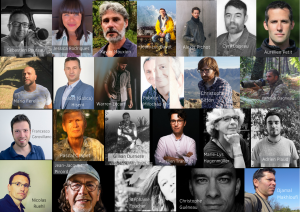 « Ces photos convoquent ainsi nos émotions et invitent à cheminer hors du quotidien, à se relier au réel, à s'ouvrir pour finalement en quelque sorte se reconnecter à soi-même. »
L'ONF et le château de Fontainebleau sont partenaires de l'exposition. Avec le soutien de la région Ile-de-France, du département de Seine-et-Marne, du Comité Régional de Tourisme d'Ile de France, de l'office de tourisme de Paris, et de nos partenaires mobilité SNCF Gares & Connexions et SNCF Transilien.
Extension of the photography exhibition "An emotional journey in Pays de Fontainebleau" invites you to discover 30 photos and 23 photographers till the 30 of April 2021, at the Fontainebleau-Avon railway station.