Pledge of commitments – hotels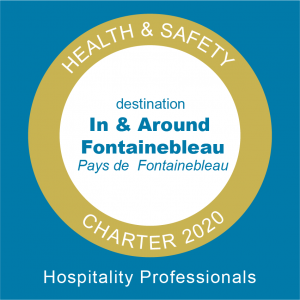 The safety and well-being of visitors In & Around Fontainebleau is our priority. .
Understandably it's a difficult decision to practice physical activities again, get away for the weekend or plan a short break as you did previously without the importance of knowing that every effort has been made to reassure and make you feel safe during your well-deserved "me-time". The hospitality professional partners of Destination In & Around Fontainebleau (Pays de Fontainebleau) commit to ensuring and implementing that health and safety measures are in place in compliance with government directives to guarantee the required level of security. 
You can find in attachment our document Health and Safety Commitments 2020  (classic pdf version / flipping version) to which each manager of the partner hotels has committed him/herself here below. 
Find out the richness of the hotel offer in the Pays de Fontainebleau. Reservations of these hotels are made online. The hospitality professionals are at your disposal to answer your questions, do not hesitate to contact them. Their contact details are mentioned on each presentation page. 
We wish you a good time during your stay, in conditions favoring your well-being.